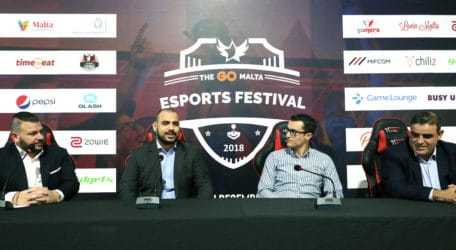 Over 350 gamers, and more than 1,000 spectators attended the GO Malta Esports Festival 2018, in December at the Malta Fairs and Conventions Centre in Ta' Qali. The largest esports event of its kind that Malta has seen and in its sixth edition, the event hosted the passionate gaming community present on our island and from over 10 countries worldwide. Esports, a form of competition using video games takes the form of organised multiplayer video game competition between professional players.
With a total of 9 tournaments and over 1.5 million viewers on live streaming across all games and the world, the impressive prize of €25,000 was split between winners of an array of games including CS:GO, CODBO4, Fortnite, RL, HS, LoL, PUBG, DOTA and FIFA. 
"Computer games have become a fixed part of our community. This is proven impressively by the attendance we saw for the GO Malta Esports Festival 2018, where local and foreign gamers showed off their skills to an enthusiastic audience," explained Kersten James Chircop from gamers.com.mt. "With GO Malta Esports Festival we believe that we have established a tournament with international power in Malta. It is and will continue to be an annual event and a worldwide competition in the eSports community."
In the Counter Strike:Global Offensive tournament, Valiance won the grand prize of $10,000 after beating Vitality 2 – 1 in the grand final. Valiance and Vitality both qualified for the ESL Katowice 2019 Minor. The €3,500 prize pool for Call of Duty: Black Ops 4, partnered with European Esports Gaming [EEG] was won by Black Claw after winning 3 – 2 in the grand final against After Shock. 4 international teams from over 6 countries and 2 local teams took part in this tournament. Project Eversio, a local team managed to grab 4th place, something they are very proud of.
A total of 12 teams also brought their computers to battle it out for PlayerUnknown's Battlegrounds, competing in multiple tournaments during the weekend, with NT4L, the best four-player squad taking home the wonderful prize of €1,190. 
For the FIFA tournament, a total of two tournaments were organised with a total of 64 participants. Professional players also flew to Malta for the first time ever including WickyBG, a world-renowned professional FIFA player. Kurt Fenech, one of Malta's most successful international competitors also made a guest appearance and met with the fans.
The GO Malta Esports Festival 2018 is endorsed by local and international sponsors, including GO, Gaming Malta and The Malta Tourism Authority.