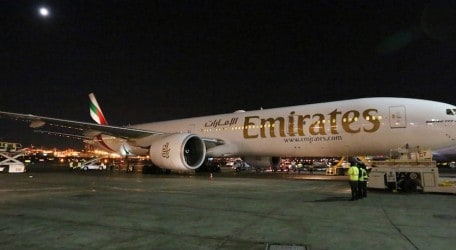 Flight marks Emirates' 12th U.S. gateway and only year-round daily service between U.S. and Greece
Emirates commenced daily passenger service between Newark Liberty International Airport and Dubai International Airport, via Athens International Airport. A VIP delegation and contingent of international media were aboard the inaugural flight, which carried passengers from Athens, Dubai and points beyond.
Newark becomes Emirates' 12th U.S. gateway, and is the second serving the greater Tri-State Area, complementing Emirates' existing four daily flights from Dubai and John F. Kennedy International Airport. Passengers embarking from Newark and Dubai will have the option to disembark in Athens or continue to their final destinations.
"This new route will connect America's largest metropolitan area and Dubai through one of Europe's great capitals," said Hubert Frach, Divisional Senior Vice President, Commercial Operations West, Emirates. "The launch of this year-round daily service will allow us to offer Emirates' unique product and award-winning service to passengers on a route long neglected by other airlines."
"It is always a great pleasure to announce new air services, route expansions and partnerships at our airport," said Diane Papaianni, the General Manager at Newark Liberty International Airport.  "Our airport has a vast network of destinations, and we are delighted to have Emirates join our airline family and offer more travel options to our customers."
"Emirates' direct, year-round operations on the Athens-New York route is a spectacular development for the Athens' market, enhancing its connectivity and presenting the traveling public with new travel options on Emirates' excellent product. At the same time, Athens' strong traffic volumes to/from the US, underpinned by the vibrant Greek-American community, signify the potential and the success of the route.", said Dr. Yiannis Paraschis, CEO, Athens International Airport.
"The United States is a priority market for Greece," said Consul General of Greece in New York, Konstantinos Koutras. " The establishment of the new direct flight Dubai-Athens-New York will significantly empower Greece's appeal among the U.S. travel audience."
Emirates will serve the route with a wide-body Boeing 777-300ER powered by General Electric GE90 engines, offering eight seats in First class, 42 seats in Business class and 304 seats in Economy class, as well as 19 tons of belly-hold cargo capacity.
Emirates daily flight EK209 will depart Dubai at 10:50 a.m. local time, arriving in Athens at 2:25 p.m. before departing again at 4:40 p.m. and arriving into Newark at 10:00 p.m. on the same day. Emirates daily flight EK210 will depart Newark at 11:45 p.m., arriving in Athens the next day at 3:05 p.m. EK210 will depart from Athens at 5:10 p.m. and continue onward to Dubai, arriving at 11:50 p.m., facilitating convenient connections to more than 50 Emirates destinations in India, the Far East and Australia.
Hello, Newark
Newark provides U.S.-bound travelers seamless access to America's most-visited city, New York. Upon arrival at Newark airport, travelers are a short ride from Manhattan's Broadway shows, top-rated restaurants, internationally renowned museums and world-class shopping.
Travelers beyond New Jersey and the Tri-State Area can take advantage of Emirates' partnerships with JetBlue Airways, Alaska Airlines, Virgin America, allowing for connections to and from more than 100 destinations across the U.S., Caribbean and Mexico. Emirates also now accepts the TSA PreCheck programme on flights departing from the USA, making passengers' travel experience more convenient.
Visiting Dubai
Dubai offers everything from desert outings to family-friendly hotels, and even ski slopes at the Mall of the Emirates. Having become the  HYPERLINK "http://www.emirates.com/english/destinations/flights-to-dubai.aspx" fourth-most-visited city in the world, Dubai is known for its eclectic mix of offerings, from futuristic architecture to vibrant traditional culture and diversity.
Those traveling to Dubai will find many different activities to experience. The city offers everything a visitor could want, from shopping at some of the largest malls in the region to dining options which will spoil anyone for choice, a trip to Dubai is a must for families, friends and individuals. Dubai has seen the addition of several new attractions in the last year. Among the latest must-see places in the dynamic city are Dubai Parks and Resorts which features three distinct theme parks – Motiongate™, Bollywood Parks™ and LEGOLAND®.
All travelers can take in the sights of the Burj Khalifa, the world's tallest building, the Dubai Fountain which dances to a set of music for onlookers, and of course, experience desert camel rides and dinner under the stars at a Bedouin style camp. Dubai truly offers a variety of attractions to meet the tastes of business and leisure travelers alike.
World class service from Skytrax's "World's Best Airline 2016"
Emirates' Boeing 777-300ER aircraft serving the new Dubai-Athens-Newark route will offer high levels of comfort and high-quality service with private suites in First class, lie-flat seats in Business class, and ergonomically designed cabins in Economy class.
Passengers in all cabin classes can enjoy the friendly service from Emirates' multi-lingual cabin crew, meals prepared by gourmet chefs, and more than 2,500 channels of the latest movies, TV shows, and music hits on its award-winning ice inflight entertainment system including eight Greek channels.
Emirates also has one of the world's most generous baggage policies. Economy Class customers traveling from Newark EWR can check in two bags up to 23kg each whilst Business and First Class passengers can travel with 2 bags of up to 32kg each.
First and Business Class passengers can also travel to and from the airport via Emirates complimentary Chauffeur-drive service, making it easy and convenient for customers within 60 driven miles of Newark EWR to arrive on time, refreshed, and ready for their flight with Emirates.
Emirates Skywards, the award-winning frequent flyer program of Emirates, offers four tiers of membership – Blue, Silver, Gold and Platinum – with each membership tier providing exclusive privileges. Emirates Skywards members earn Skywards Miles when they fly on Emirates or partner airlines, or when they use the program's designated hotels, car rentals, financial, leisure and lifestyle partners. Skywards Miles can be redeemed for an extensive range of rewards, including tickets on Emirates and other Emirates Skywards partner airlines, flight upgrades, hotel accommodation, excursions and exclusive shopping.
Emirates operates daily scheduled flights between Malta and Dubai via Larnaca, Cyprus, on a Boeing 777-300 aircraft.