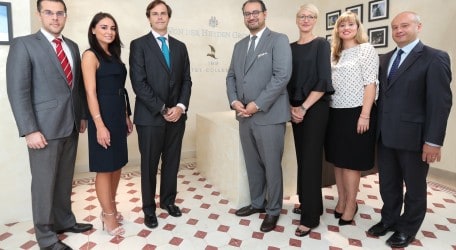 Pictured above: IBB's management team creating value through innovation and excellence in hospitality. From left to right: Szabolcs Tatar, Daria Ratajczak, Javier Errejon Sainz de la Maza, Vladimir Saal, Sandra Kunert, Susana Vila Montes and Adrian Sciberras
IBB Hotel Collection, which operates hotels under lease, management and franchise contracts in prime and secondary locations with three different own brands: IBB Hotel, IBB Blue Hotel, and Cugó Gran, announced new appointments to its international management team. The six appointments were announced by Vladimir Saal, CEO of IBB Hotel Collection.
Mr Saal said: "2017 is yet another milestone year for IBB Hotel Collection as the group continues to expand further in Europe, with our next opening being Cugó Gran Maċina Grand Harbour in the historical city of Senglea, Malta, on 1st December 2017."
Mr Javier Errejon Sainz de la Maza from Spain, a member of the board of IBB Hotel Collection since 10 years, is fully responsible for Finance and Controlling.  Mr Errejon explained: "IBB is growing at an incredible yet solid pace.  We have a great opportunity to build on this growth and develop the IBB Hotel Collection's brand in those European countries where we are already present."
Mr Adrian Sciberras from Malta, who joined the group in 2016, has been appointed financial controller for Malta and company secretary. Mr Roberto Paredero from Spain has joined the group last May as Financial Controller of the group, while Mr Szabolcs Tatar from Hungary has been appointed director of operations for the group, responsible for interface between the general managers and the management board and to strengthen the operational quality of all hotels. Mr Tatar joined the group in July this year.
Last June, Ms Sandra Kunert from Germany and Ms Susana Vila Montes from Spain joined IBB. Ms Kunert has been appointed director of revenue and distribution management of the group. She is also responsible for IBB's social media strategy. Ms Vila Montes is director of leisure sales responsible for all tour operator contracts, B2B and B2C clients. Ms Daria Ratajczak from Poland, who joined IBB last September, will be assisting Ms Kunert by managing content for all social media channels of all the IBB hotels.
Mr Saal said: "During this year, we have strengthened our team of professionals to continue improving our hotels' results. Although the existing teams did extraordinary well, we needed to add additional management skills to our group to be prepared for the upcoming hotel openings. We're also using the newest hotel management technologies from various international technology providers of the hospitality industry, with the final objective being that of attaining operational excellence.  By being inspiring, bespoke and bold, IBB Hotel Collection is aiming to create value through innovation and excellence in hospitality for all stakeholders."
Most of the services for the member hotels are being delivered from the company's support office in Valletta.
IBB Hotel Collection is a subsidiary of Von der Heyden Group, a developer and investor based in Malta.  Currently operating 11 hotels in Germany, Poland and Spain, the group has ambitious growth plans for the upcoming years. The next openings are expected in Malta at the Grand Harbour with a bespoke boutique accommodation under the brand name of Cugó Gran Maċina Grand Harbour, being the first member of Design Hotels from Malta. The group is currently constructing an own asset in the historic city centre of Gdansk (Poland) under the IBB brand, namely IBB Hotel Dlugi Targ.