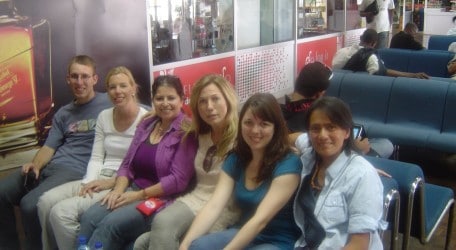 Time to go home: Felix (Germany), Frouke (Netherlands) , myself, Marieke (Netherlands), Regina (Hungary) and Suzy (from Rutgers WPF in the Netherlands) at Malawi airport
Photos by Marieke van der Velden
I am writing this while waiting to board my flight at Malawi airport. It has been an amazing week during which I often felt I had been transported back in time to another era.
Pregnant women carrying children on their backs while balancing anything from logs to pails of water on their heads. And taking turns with the children to pump water from a well. Even the men admit that the Malawi women are strong and hardworking while the men are frankly rather lazy.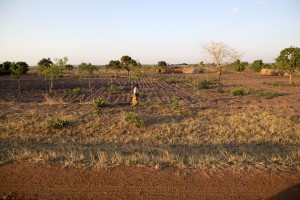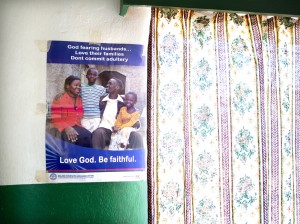 And yet, it is the man who dominates and decides and the woman submits to his wishes. Before accepting their union his family makes sure that the woman he marries will take care of him and will cook his food even if he has spent the day basically hanging around.
In the rural areas certainly that is just the way it is and everyone accepts it, but at least in the cities, things have changed.  The women are empowered, educated, are fashionably dressed, and they all agree that it is financial independence which has made the difference.  Sound familiar?
As for the poverty, while there is no famine or drought and no people dying from hunger, the basic food is maize (similar to semolina), which means that while the people look well-fed, their nutrition is very poor…there are campaigns to encourage Malawins to eat more fruit and vegetables, as well as more protein, but traditional habits are hard to change plus meat, fish and chicken are expensive.  We were invited to dinner at the house of a female Chief (from a royal family and only one of two women in this role) and she served us the white sticky maize so we could try it out for ourselves.  Let us say it was not the best thing I've ever tasted.
It is for this reason that so many infants die before the age of 5 due to disease, and it is for this reason so many women die while giving birth – a result of the poor diet coupled with the rigours of pregnancy and labour, especially if they cannot make it a local clinic or hospital from the isolated village life.
With these visions still in my head, I've logged on to see what is happening in Malta. Same old same old…petty political bickering and pointing of fingers, while trying to make everyone believe we "have it all" just because the latest iPhone 4 is now in Malta and has been snapped up immediately.
It is honestly very hard to take all of this seriously after seeing the way so many people still live in 2011 in Africa…