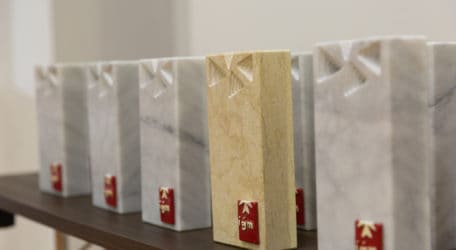 The 29th edition of Malta Journalism Awards was held on Saturday.
Veteran journalist Laurence Grech was recognised with the Gold Award sponsored by the Tumas Fenech Foundation for Journalism Education. HIs nomination was presented to Jury made up of the President Emeritus Dr. Marie Louise Coleiro Preca and Mr Frans Ghirxi and Mr Mario Schiavone.
Meanwhile, an independent jury was formed by the IGM to evaluate the submissions the Malta Journalism Awards. This was made up of Mr Albert Callus, Chairman, Mr Antoine Falzon and Mr Sergio Mallia.
The winners were as follows:
Print Investigative Journalism: David Hudson, Maltatoday
Photojournalism sponsored by The Farsons Foundation: Darrin Zammit Lupi, Reuters,
Broadcast journalism, TV script – news Jonathan Farrugia – TVM
Broadcast journalism, TV script – features Mario Xuereb, TVM
Radio journalism – current affairs – George Cremona, RTK
Broadcast journalism – filming – Brandon Pisani, TVM
Print/online Journalism – human interest stories (sponsored by Malta Public Transport) – Karl Azzopardi, Malta Today

Broadcast Journalism – human interest stories (sponsored by Malta Public Transport) Andrew Azzopardi, TVM 2
Print Journalism – cultural news (sponsored by Malta Tourism Authority) – Noel D'Anastas, In-Nazzjon
Broadcast journalism – cultural news (sponsored by Malta Tourism Authority) – Mario Xuereb,
Online journalism – cultural news (sponsored by Malta Tourism Authority) –
Keith Demicoli, www.tvm.com.mt
Environmental journalism (sponsored by Wasteserv) – Alan Deidun, The Sunday Times of Malta
Online journalism (sponsored by the Malta Information Technology Agency) – Glen Falzon, www.tvm.com.mt
Travel journalism (sponsored by Britannia Services Limited) – CVC Media, TVM
Opinion articles (sponsored by AX Hotels) – Alan Deidun, The Sunday Times of Malta
Print journalism – sports (sponsored by the Parliamentary Secretariat of Youth, Sports and Voluntary Organisations) – Valhmor Camilleri, The Sunday Times of Malta

Broadcast journalism – sports (sponsored by the Good Causes Fund) –
Charles Camenzuli, NET TV
Photo journalism – sports (sponsored but the Malta Gaming Authority) –
Domenic Aquilina, The Professional Imagemaker
Best use of Maltese language in print and Internet (sponsored by the National Council for the Maltese language) – Victor Vella, Union Print
Best use Maltese language on Radio and TV – Mario Xuereb, PBS