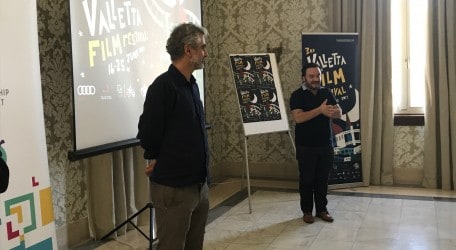 New Venue, Initiatives and Guests announced
The third edition of the Valletta Film Festival (VFF), organised by the Film Grain Foundation, will take place between the 16th – 25th June 2017, and will include a new venue and over 40 Maltese premiers of international films, with special guests lined up to attend.
For the first time in the history of VFF, Herbert Ganado Gardens will host films from Latin America, as well as special screenings from Japan and Sweden. The flagship venue will once again be Pjazza Teatru Rjal, which will host the Opening and Closing ceremonies, as well as the screenings for the In Competition titles. Other open-air screenings will take place at St George's Square, while the indoor screens at Spazzju Kreattiv and Embassy Cinemas will show titles from the festival's sidebars.
High-profile guests from the world of film will be in attendance at the festival. These include acclaimed film director Agnieszka Holland, who directed several episodes of American television series such as The Wire, and House of Cards. In 1990, her film Europa Europa received an Academy Award nomination for Best Screenplay. Holland has also received Academy Award nominations in 1985 and 2012 (Best Foreign Language Film for Angry Harvest and In Darkness). She will be in Malta for the screening of her film Spoor, which is in competition at the festival.
The festival will also be providing audiences with a Virtual Reality experience, set up at St George's Square, as well as the screening of five short films produced by Film Grain Foundation in aid of Malta's presidency of the European Union this year. The short films, collectively entitled 'Ewropej' portray the colour of Maltese identity within a European context.
The festival will kick off on 16th June with the Opening screening of 'Fortunata', the new film by established Italian actor and director Sergio Castellitto, which had its world premiere at the prestigious Cannes Film Festival last month. It tells the story of a young mother, played by award-winning actress Jasmine Trinca, who is determined to fulfil her dream of opening a hair salon, trying to set herself free from her past and win independence. Trinca received the best actress award for this role by the Un Certain Regard Jury at the Cannes Film Festival.
Seven feature films, seven documentaries and 25 short films will be competing for the Triton Awards in Best Film, Best Director, Best Screenplay, Best Cinematography, Best Actor and Actress, Best Documentary and Best Short Film. The awards ceremony will take place on Saturday 24th June at Pjazza Teatru Rjal.
VFF will also include various Masterclasses such as 'Script Presentation and Film Pitching.' This will be conducted by Didier Bouchard, the director of the Medi Talents scriptwriting workshop, and Giovanni Robbiano, from FAMU (the Film and TV School of the Academy of Performing Arts in Prague) one of the oldest film schools in the world. A panel discussion on 'Co-Production' and a series of 'Talent Talks' with the filmmakers, actors and actresses in Malta for the festival are also being organised.
Valletta Film Festival is supported mainly by Arts Council Malta through Cultural
Partnership Agreement, Audi by Continental Cars Ltd, Transcripta and Valletta 2018
Foundation.
Other supporting partners include Malta Film Commission, Vascas, Cleland and Souchet,
Cisk, Jameson, Pjazza Teatru Rjal, Spazju Kreattiv and Embassy Cinemas.
Tickets can be bought online from www.vallettafilmfestival.com. Festival passes, allowing access to all the screenings, masterclasses and events, are also on sale.