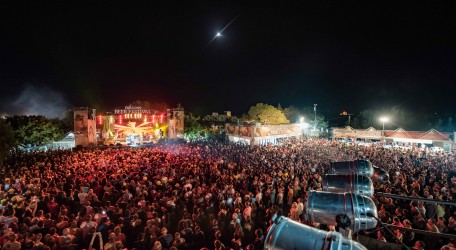 The Farsons Beer Festival is back from Friday 22nd to Sunday 31st July at Ta' Qali National Park. The 36th edition of the festival will offer a fantastic line-up of musicians, artists and bands, accompanied by the most extensive selection of award-winning local and international beers the festival has ever offered.
Malta's most popular open air summer festival runs for 10 days and will be featuring over 50 beer and cider brands and variants, 30 bars and food stalls, with over 70 beer draught installations, and a record number of 60 music acts across 3 stages.
Some of the new specialty beers available will include Leffe and Hoegaarden from Belgium, Baladin's hand crafted beers from Italy, Hobgoblin from Wychwood brewery and Trooper, Iron Maiden's, the legendary heavy metal band, very own beer, brewed by Robinson's brewery from the UK. A wider selection of specialty beers from the prestigious St Austell's brewery, from Cornwall UK, will also be on offer.
Alongside these international specialty beers, the festival will also supply Farsons' own range of classic ales and its Cisk range of award-winning beers, including the recently launched Cisk Pilsner, available from the new Cisk Specials Bar in the Rock Area. Other international brands include Carlsberg, Budweiser, Corona Extra, Beck's, Guinness, John Smith's, Kilkenny Irish Cream, Newcastle Brown Ale, as well as ciders.
The Farsons Beer Festival is sponsored by Vodafone who has lots of surprises prepared for all visitors. The Vodafone stand will feature a huge Wheel of Fortune, where every spin is a win. Apart from a vast range of fantastic gadgets, visitors will also be given the opportunity to win a huge daily prize – a holiday package to Europe with flight and accommodation included!
The Festival is also supported by GasanZammit Motors, Krea Malta, Malta Tourism Authority and Vibe FM who will be hosting the Rock Stage.
Doors open at 7.30pm every night and entrance is free of charge with ample free parking available.