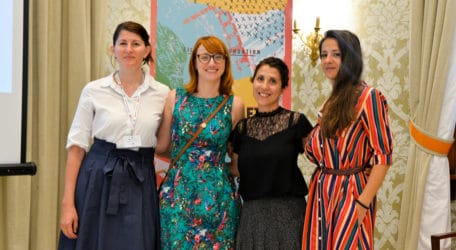 DATES: 14 – 23 June 2019
KEY EVENTS:
Opening Screening + Ceremony + Party: Friday 14 June 2019
Closing Ceremony + Screening + Party: Saturday 22 June 2019
Official Competition Line-up: screened from Saturday 15 June – Friday 21 June
Daily Events: Talent Talks (daily discussions with filmmakers in competition) from Saturday 15th June – Saturday 22 June at the Cinema Bar by City Lights. Starting from 17:30.
Aperitivos at various establishments in Valletta almost daily – please check the catalogue
PROGRAMME DETAILS
More than 100 fiction, documentary and short films will have their Maltese premieres during the 5th edition of the Valletta Film Festival (VFF), taking place between the 14th – 23rd June, in various venues around the capital.
CINEMA OF SMALL NATIONS
A total of twelve feature and documentary and 24 short films will compete in the Cinema of Small Nations Competition, eligible only to films coming from thirty-four small nations in Europe, Middle East and North Africa. Four Triton awards will be given out by an international jury including Best Feature Film, Best Documentary Film, Best Short Film and Best New Talent. All films in this section are also eligible for the Valletta Film Festival Audience Award. Award winners will be announced at the closing ceremony on Saturday 22nd June. All feature films in the Cinema of Small Nations Competition will be screened at Valletta Campus Theatre.
Some of the films that will compete for the Tritons include OLEG – a film by Juris Kursietis who will attend VFF to present his film. The story follows a young Latvian butcher, falling in the wrong circles as he tries to build a better future for himself.
Music lovers will be ecstatic to see A DOG CALLED MONEY – a documentary about PJ Harvey, her inspiration, writing and recording. Sebastian Gollek, the editor of the film will be in Malta to talk about this amazing journey.
SONS OF DENMARK is a Danish production talking about the topic of radicalisation and ethnic tensions in Copenhagen. Two men will decide to act against the current state of the country and their actions will have grave consequences on their lives.
Finnish film THE HYPNOTIST tells the story of Master hypnotist Olliver Hawk (1930–1988), who became famous in Finland in the 1960s when hundreds of thousands of people saw Hawk's hypnosis show. In addition to his performances, Hawk accepted private customers with mental disorders, for example, which led to a conviction for fraud and illegal practice of medicine in the 1980s.
DELTA ZOO comes to us from Lithuania and it's a documentary about the 1990s when Lithuania got its independence from the Soviet Union. Reacting to Soviet aggression, the newly re-established Lithuanian Army Command decided to create the first-ever national crack commando unit known as Francas' Zoo.
SPECIAL SCREENINGS AT PTR
Our flagship venue and the largest open air theatre in Malta, Pjazza Teatru Rjal, will be hosting a number of special screenings made of a selection of high-profile productions and festival winners.
One of the films screening at PTR will be French – Israeli film SYNONYMS that was one of the first titles announced for this year's VFF. Winner of the Golden Bear for Best Film at this year's Berlinale and directed by Nadav Lapid, it tells the story of Yoav, a young Israeli, determined to wipe out his origins and become French.
We are also happy to announce the return of Guatemalan filmmaker Jayro Bustamante whose film Ixcanul Volcano was screened at VFF 2015. His second feature TREMORS, a film about a father, a role model and a practicing evangelical Christian whose perfect traditional life begins to crack when he falls in love with a man will also screen at PTR.
We hope PTR will be big enough to receive all the audience interested to see MARADONA, the third film from the team behind the award-winning "Senna" and "Amy" directed by Asif Kapadia and produced by James Gay-Rees and Paul Martin. This feature documentary coming to VFF straight from Cannes, put together 500 hours of never before-seen footage from the Argentine player's personal archive. You will see Diego, waving to raucous Napoli fans before heading into a media scrum and countless other moments in the life and career of this football superstar.
Coming to us straight from the Cannes Film Festival is PORTRAIT OF A LADY ON FIRE that won the best screenplay award at Cannes. Portrait of a lady on fire – best screenplay at Cannes Film Festival 2019. Thi period drama tells the story of a growing intimacy between a painter and her subject.
THE WHISTLERS is another title coming to us from Cannes. This comedy set at the Canaries involves an innovative way to get out of prison.
JOAN OF ARC by Bruno Dupont follows the story of young Joan from the battlefields of Paris to her tragic end at the stake.
The festival will finish with THE TRAITOR screened on Sunday 23rd at PTR. This Italian drama follows the story of Tommaso Buscetta, a made man, who makes a decision that will change the entire story of the Mafia by meeting with Judge Falcone and betraying the eternal vow he made to the Cosa Nostra.
WITHOUT BORDERS
In other sections of the festival more titles have been announced. French/Senegalese comedy drama – YAO will screen as part of Without Borders – a section that this year focuses on francophone film. This heart-warming film tells the story of a 13 year-old boy ready to do anything to meet his hero: Seydou Tall, a famous French actor, that is played by Omar Sy, best known for his roles in The Untouchable, X-Men and Jurassic World.
Also in the Without Borders section, Valletta Film Festival will be honouring the memory and work of the late Agnés Varda by showing her last film VARDA BY AGNÈS. The film forms part of the Without Borders selection that will be focusing on francophone films. This unpredictable documentary from the fascinating storyteller sheds light on her experience as a director, bringing a personal insight to what she calls "cine-writing," traveling from Rue Daguerre in Paris to Los Angeles and Beijing.
THE SWALLOWS OF KABUL is another title coming to us from Cannes. This French animation follows the lives of two families in Kabul, a traditional and a modern one whose lives will inevitably clash and end in sacrifice
GHOST TROPIC is also a film curated for the Without Borders Section. This Belgian drama follows the story of a fifty-eight year old Khadija who will have to go on a night journey through the city and all the passers by she will meet on the way.
TEENS ONLY
Returning to the festival for the fourth year in a row, the Teens Only programme is open to young and adult audiences. In the past editions films like Swagger, Goodbye Berlin and Children of the Snow Land were amongst the most popular titles with festival audiences.
This year we are very proud to present BINTI – a film about a 12 year old Congolese girl living with her father in Belgium since she was a baby. Despite not having any legal documents, Binti wants to live a normal life, and dreams of becoming a famous vlogger. Other films in this section include Italian production BANGLA about a clash of cultures which is everyday reality for many second-generation immigrants around the world, STARS BY THE POUND about shattered dreams and how youngsters show strength and resilience.
KIDS WEEKEND
Kids are bound to be entertained with some of the most exciting animation films coming out in Europe, that will be screened over the last weekend of the festival. This will be the perfect time to kick off your family summer in style. Valletta Film Festival has selected two fantastic animated films in the Kids Programme. CHECKERED NINJA has already set a new record in the Danish film box offices, making it one of the most popular family films in Europe this year. The film follows Aske who discovers his ninja doll is alive and an expert in martial arts. The adventure ensues…
JACOB, MIMMI AND THE TALKING DOGS is a Latvian/Polish adventure animated film about two kids who spend summer in a city suburb, where together with talking dogs they rescue their romantic wooden-house neighbourhood from reconstruction.
The final film in this section is TITO AND THE BIRDS that comes to us from Brasil. The film will be dubbed in English, as all other films in this section. This adventure animation follows the story of Tito who will fight against a mysterious disease that affects his village.
ISLANDERS
The Islanders section will feature a production from Malta – BAĦAR ŻMIEN (Of Time and the Sea) by Peter Sant – an allegorical film about a state of inactivity that explores the usefulness and pain of memory, and attends to the contemporary situation of a life. It stars Ruth Borg and Narcy Calamatta.
Another film in this section is CAPRI-REVOLUTION by Mario Martone. Set on the island of Capri in 1914, it tells the story of an encounter between a goatherd, a commune of young artists and the island's young doctor.
FREE SCREENINGS AT PJAZZA SAN GORG
Valletta's scenic surroundings are elevated to dizzying heights, thanks to state-of-the-art projection and surround sound at Pjazza San Gorg. A selection of classic films, special screenings and curated short-film programmes will make up the programme.
Four films with important anniversaries in 2019 will be celebrated: 'Four Weddings and a Funeral' with Hugh Grant, Andie MacDowell, and Kristin Scott Thomas will screen on Saturday 15 June 2019; 'Easy Rider' with Peter Fonda, Dennis Hopper and Jack Nicholson will play on Sunday 16 June 2019; 'Agora', entirely filmed in Malta with Rachel Weisz, Oscar Isaac and Max Minghella will play on Friday 21 June 2019 and the animation 'Coraline' based on Neil Gaiman's international best-selling book will play on Saturday 22 June 2019.
On Monday 17 June the festival will play a selection of short films from Lebanon and on Tuesday 18th June the square will host a short-film programme from the island of Menorca. Both screenings will be presented by programmers of the respective festivals.
On Wednesday 19 June 2019 there will be a special screening of an Arté documentary Comment Erasmus m'a changé (The Erasmus Children). Directed by Angeliki Aristomenopoulou and Andreas Apostolidis, this film uses the Erasmus Exchange programme to examine the Europe of today.
On Thursday 20th June, the festival in collaboration with UNHCR Malta will commemorate World Refugee Day 2019with the screening of a number of short films that highlight issues that refugees and migrants face around the world.
VENUES
By popular demand, Valletta Film Festival is reopening Pjazza San Gorg – an enticing open air theatre surrounded by historical marvels and the spirit of Valletta itself. All screenings at this venue will be offered free of charge as cinema continues to beat in the heart of the capital.
Our flagship venue Pjazza Teatru Rjal will for the fifth year running host the opening and closing ceremonies of the festival and screen all the audience pleasers.
The Valletta Campus Theatre (ex-MITP), will become the home of the Cinema of Small Nations and all feature films in this section will be screened here. The majority of industry events as well as master classes and workshops will also take place here.
Spazju Kreattiv will screen the Without Borders and Teens Only sections of the festival as well as host a number of workshops and masterclasses.
Cinema Bar by City Lights will host the popular Talent Talks and some cartes blanches screenings.
MASTERCLASSES AND WORKSHOPS
The educational and industry strands of the Valletta Film Festival will include events taking place during the day.
Masterclass with Liliana Cavani
During this master class Liliana Cavani will discuss the distinctive features of her craft of directing film. Cavani became internationally known after the success of her 1974 feature The Night Porter. She directed 31 films for TV and the big screen throughout her career.
The event will be introduced by Prof Gloria Lauri-Lucente and moderated by Prof Gaetana Marrone Puglia. It will be followed by a Q & A session with the audience.
2 hours in Italian and English on the 18th June @ 17:00 @ VCT
Access available only to holders of Student Pass, Industry Pass, Festival Pass and VIP Festival Pass.
Maximum number of participants: 175
Masterclass with Bela Tarr
Famed Hungarian film director Bela Tarr will be giving a rare masterclass on his work as auteur. Starting out in the 1970s with the film Family Nest (1979), Tarr went on to create social realist dramas such as Prefab People (1982), which entered the competition at the Locarno Film Festival, and experimental work, including Almanac of Fall (1984). Later, he distanced himself from his earlier work through his mature masterpieces – the epic Satantango (1994) and The Turin Horse (2011), which won the Silver Bear, among others. His work has been discussed by some of the world's foremost thinkers, and has been acclaimed for its reflection on the human condition.
2 hours in English on the 22nd June @ 11:00 @ The Phoenicia Malta
Tickets @ €25
Maximum number of participants: 100
Film Scratching Workshop with Bruno Bouchard
Participants to this workshop will scratch and manipulate 16mm film to create and entirely new cinematographic material. At the end of the workshop all individual materials will be joined in a collage and screened for viewing.
3 hours in French with English translation on the 22nd June at 11:00 at SK
Age: 11-15 years old
Maximum number of participants: 20
Valletta Film Forum
The Valletta Film Forum is open to all active industry professionals, or film aficionados from Malta and other small nations.
Featuring panels made up of various drivers of the industry, the Valletta Film Forum will review the realities that filmmakers from small nations face and examine Malta's place within the international film industry and discuss topics concerning domestic and collaborative screen production. Taking place at VCT on 20th June from 09:00.
Books to Films
This is the first edition of Books to Films, an event that stemmed from the idea to connect filmmakers and book publishers. Authors, publishers and literary agents were invited to submit books that have the potential to be adapted to the screen.
Nine selected books will participate in a moderated pitching session, which will take place on Thursday 20 June 2019.
The event is being held in collaboration with HELA, the hub for excellence in the literary arts. The event will take place on the 20th June at VCT from 15:00.
The full programme for the Valletta Film Festival has been launched, with tickets and festival passes already on sale at https://www.vallettafilmfestival.com/2019-festival-pass-tickets/. For more information, and regular updates, check out the Valletta Film Festival Facebook page as well as the official website on www.vallettafilmfestival.org.
The Valletta Film festival is supported by the Arts Council Malta through a Cultural Partnership Agreement.
Official Partners of the festival include: HSBC, Malta Airport Foundation, The Phoenicia Malta, Melita, Air Malta.
Supporting Partners of the festival include: Campari Tonic, NN Konnekt, The Vincent, Palazzo Prince D'Orange, Cisk Pilsner, The AX Group, Audi, Cugo Gran Macina, Cleland & Souchet, Avantech, Valletta Local Council, I Can do Things, Kinemastik, Pellikola, UPS, Growth Gurus, Spazju Kreattiv and UNHCR.