Make some noise and raise funds for Inspire Foundation! This was the idea behind the 19th edition of "The Simon's Pub Music Festival" which was successfully organised during the last weekend of April, at Simon's Pub situated in the heart of Sliema. GasanMamo Insurance was one of the supporting sponsors for this event, together with some other leading companies in Malta.
Malta's leading insurance company believes that this was a perfect opportunity to support an event were music and charity merge. A good crowd attended the three days of fantastic music in aid of Inspire at Simon's Pub featuring the participation of some of Malta's best music groups and singers.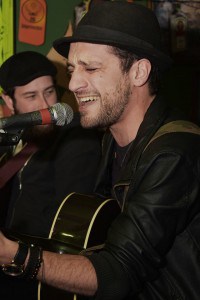 "With music all around us, it seems only natural to use people's love for music to do a little good. At GasanMamo we are proud to be associated to these types of events and to contribute in a philanthropical way. No doubt this event helps us to reaffirm our commitment at helping non-governmental organisations such as Inspire, known to promote equality and inclusion amongst people with disability, to raise funds and awareness," said Julian Mamo, Managing Director.
The Simon's Pub Music Festival has now become a staple event for music-goers. Throughout the years, the festival has offered an ideal platform for both well-known and upcoming artists such as Ira Losco and Winter Moods. It also hosted foreign bands, who come to Malta specifically to participate. Guitarists who have played alongside Eric Clapton have also made their way to the stage. This year the line-up featured popular bands such as Red Electrick and The Busker.
"It is wonderful to see people come together through music and so willingly help Inspire Foundation. We express our gratitude to Gasan Mamo Insurance for supporting this event – it is thanks to companies like these that such events can be put together," Claire Galea, Fundraising Manager at Inspire Foundation said.