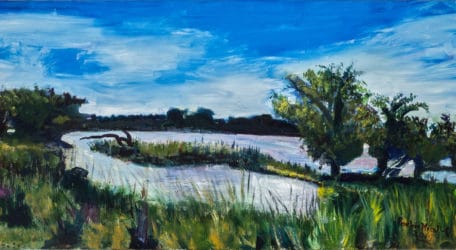 Well-known local artist Pauleen Micallef is holding an online auction of an oil painting 'Botswana' measuring 60 by 120cm. Bidding is open and ends on Thursday 14th March at 6.00pm. Reserve Price is 442 Euros (including 18% Vat).
This is a tribute painting of a beautiful part of earth and wild life, which is diminishing. Main stakeholders should work together to find a compromise between the eco land preservation and sustained livelyhoods of the surrounding settlements, in order to remedy the problem.
No bidder can successfully win the item below the 'Reserve'. Successful bidder will be notified and invoiced by Pauleen Micallef. Please note that she reserves the right to refuse to accept payment from a source other than the buyer on record. For additional information, please contact [email protected] If your bid is successful, your invoice will be e-mailed to you. Payment is due in full immediately after the sale.