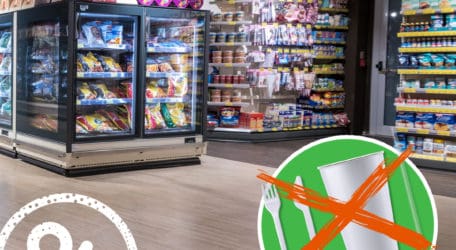 Valyou Supermarkets in Mellieha, Naxxar and Pendergardens have taken a stand towards the environment and have announced that they will no longer purchase single use plastic disposables for resale. This follows the various initiatives taken by the supermarkets to reduce plastic, including the 'Bring Your Own Container' initiative launched in the Summer of 2018.
"Reducing the damage caused by plastic is one of the most challenging issues society can address," said Charlene Dalli Mintoff, General Manager at Valyou Supermarket in Mellieha. "Because we sell plastic disposables, we're in an important position to make changes to become more eco-friendly, so plastic disposable tableware such as cups, cutlery, plates and straws will no longer be available to our customers, after all the current stock is sold out. The disposables section will consist of disposable products made from biodegradable and compostable materials. By the end of the year we would have sold all of our plastic stock and our aisles will be fully eco-friendly. We urge our customers to join our cause and the revolution and help us make this world a better place," she concluded.
In their effort to reduce plastic waste, all three supermarkets also encourage customers to bring their re-usable containers for anything bought from the deli, butcher and gourmet counters and get their own shopping bags to reduce plastic bags at the checkout counters. The supermarket also offers compostable bags at checkout and ask customers at the fruit and vegetable counter to use one bag rather than separate bags for their fruit and vegetables; whilst still encouraging them to bring their own re-usable cloth bags.
For more information, visit www.valyou.com.mt or their Facebook page on www.facebook.com/Valyousupermarkets.