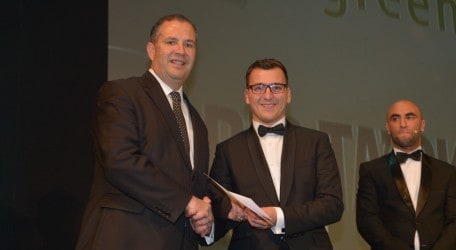 WEEE Malta has been awarded the Best Practice in Recycling Category Award during the Malta Waste Reduction Awards 2017 organised by Wasteserv Malta Limited at the Mediterranean Conference Centre, Valletta.
The awards were presented on 15th March by Minister for Sustainable Development, the Environment and Climate Change, Hose' Herrera and Parliamentary Secretary for Local Government, Stefan Buontempo.
The award follows WEEE Malta's participation in the Europe-wide initiative last November: the European Week for Waste Reduction (EWWR). The Waste Electric and Electronic Compliance Scheme took part with the 'Bring WEEE for Free' awareness campaign encouraging people of all ages to dispose of their electronic waste in a proper way. The week long campaign included a free of charge door to door WEEE collection. WEEE Malta collected more than 15 tonnes of electronic waste from around 800 households disposing more than 7,000 discarded products for recycling. The Scheme also donated EUR 1 to Dar Tal-Providenza for every item collected. WEEE Malta capped it at EUR 10,000 and the full amount was donated to the charity organisation during the Dar Tal-Providenza Marathon on New Year's Day.
WEEE Malta's CEO Mr Joe Attard "The 'Bring WEEE for Free' campaign served the purpose to promote the right disposal of eWaste, especially small WEEE for recycling. The most significant part was the engagement and participation of hundreds of residents who contributed and raised money for the Dar tal-Providenza. Thus the campaign helped the Maltese community do more for the environment and donate money to those with special needs."
Mr Attard thanked the Chamber of Small & Medium Enterprises (GRTU) – its parent company, for the continuous support and all producer members of the Scheme who assume responsibility for the cost of any activities, such as collection and treatment. The WEEE Malta EWWR action also provided for the launch of the WEEE Trolleys Collection Points. The trolleys are for the right disposal of small discarded electronic equipment. So far WEEE Malta has 60 WEEE Trolleys in various Local Councils both in Malta and Gozo, Schools, Government entities and private companies.
WEEE Malta is the largest WEEE Compliance Scheme in Malta. It is authorised by the Environment and Resources Authority to manage the collection, recovery and recycling of Waste Electrical and Electronic Equipment on behalf of EEE Producers/Importers.