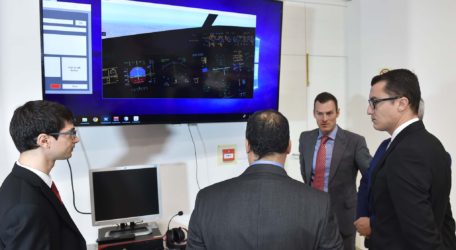 An event was recently held at Esplora Interactive Science Centre, Kalkara in order to disseminate the results of the TOUCH-FLIGHT 2 research and innovation project. The event was well attended, with the audience consisting of airline pilots, university researchers, students, aviation enthusiasts, and the general public.
TOUCH-FLIGHT 2 is a Eur 190,000 project that was funded by the Malta Council for Science and Technology (MCST) FUSION R&I programme and was carried out as a collaboration between the Institute of Aerospace Technologies at the University of Malta and QuAero ltd., a Maltese aviation consultancy company. TOUCH-FLIGHT 2 built on the results of a previous project – TOUCH-FLIGHT – and developed novel technologies which enable airline pilots to interact with aircraft avionic systems through the use of touchscreen gestures and voice commands.
At the beginning of the event, the audience was welcomed by the Executive Chairman of MCST Dr Jeffrey Pullicino Orlando who said that Touch-Flight 2 leveraged the further potential of Touch-Flight 1, by expanding and further developing the technology through the FUSION Programme, he added "that such projects demonstrate that strong collaborative relationships between academia and industry are key to delivering tomorrow's technologies."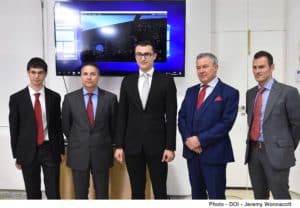 Parliamentary Secretary for Financial Services, Digital Economy and Innovation Silvio Schembri reiterated the Government's commitment in boosting research and innovation in various sectors, such as in the aerospace and the aviation industry which is an important contributor to Malta's economic growth. "In this case, innovation proved essential as TOUCH-FLIGHT 2 project identified ways how to better pilot's work, " said Schembri while encouraged researchers to continue to pursue their ambitions, innovative ideas and maintain Malta's competitiveness. This was followed by a speech by the Director of the Institute of Aerospace Technologies Prof. Ing. David Zammit Mangion who gave a brief overview of TOUCH-FLIGHT 2 and outlined the main research and teaching activities of the Institute.
Following these introductory speeches, presentations were delivered by the key researchers who worked on TOUCH-FLIGHT 2: Dr Ing. Jason Gauci and Mr Kevin Theuma (from the Institute of Aerospace Technologies) and Captain Alan Muscat (from QuAero Ltd). These presentations focused on several aspects of the project including the design and implementation of the system, and the evaluation of the system by a group of commercial airline pilots in a realistic flight simulation environment. Following these presentations, the audience was shown a short video which highlighted the main activities and outcomes of the project. A short Q&A session followed, during which the TOUCH-FLIGHT 2 researchers discussed their plans for future work and replied to questions and accepted suggestions and comments from various audience members.
The event was wrapped up with a networking lunch during which audience members had the opportunity to participate in a hands-on demonstration of the TOUCH-FLIGHT 2 concept.