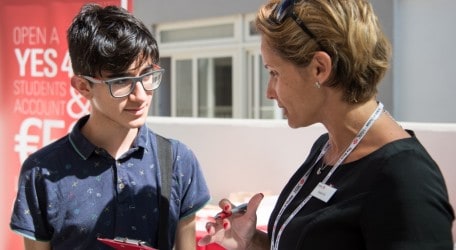 Student days are often the most memorable period in one's life, and HSBC Malta is making 2017 especially unforgettable for students by offering them €50 credit on all new YES 4 Students accounts until 31 October 2017.
YES 4 Students is HSBC Malta's student proposition and the 2017 campaign is specifically designed to let students choose what's best for them by giving them flexibility through the one off credit to their account. The campaign is built around this premise, asking Students "What can you do with €50?"
The 2016 YES 4 Students campaign was pioneering for its social media influence and attracted the attention of thousands of students via its link up with the popular TV program Gadgets. A number of competitions and prizes, including the top prize of a €1,000 travel voucher also formed part of the promotions. Students can look out for more great prizes and competitions this year.
Daniel Robinson, Head of Retail Banking and Wealth Management at HSBC Malta, said: "We know that students don't always have a lot of money so have to make smart decisions around what they spend their limited funds on. That's why we think our €50 reward works – they will know how to put this money to best use. Plus our proposition is built to help them manage their money as easily as possible."
All full-time students in Malta and Gozo can visit the Bank's Facebook page or more information on Yes 4 Students and other upcoming offers.