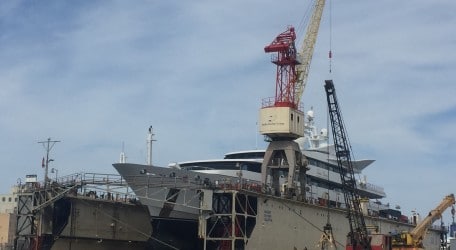 "An increase of clients and turnover of 21.35% this year at Melita Shipyard, part of The Melita Marine Group; bookings worth millions of euros until mid-next year"
– Pierre Balzan, Managing Director, Melita Marine Group
The focused energy Malta and the Melita Marine Group have been investing for the past 27 years in the yachting service industry is giving the desired results, with Melita Shipyard in Grand Harbour registering a continuous growth and an increase in clients and turnover of 21.35% this year.
The facility has also concluded project contracts worth millions of euros already in hand up to March 2017, said Pierre Balzan, Managing Director of Melita Marine Group.
With close to three decades of operational experience, Melita Marine Group is possibly Malta's most complete yachting service group, with a portfolio of number of companies to provide the full suite of products and services to yachts and superyachts.
The Group also has a number of awards under its belt including the Detroit Diesel Corporation Distributor of the year 1998, Superyacht Excellence 2007, MTU Distributor of the year 2012 and the Captain's Superyacht Services Guide 2016.
"The investment in the industry is both by the authorities and the private sector – Melita Marine Group invested millions of euros in its floating dock facilities to be able to service even superyachts of up to 100 metres. This is now returning an exponential growth in demand for yachting services and consequently well-paid employment, turnover and investment in future manpower through apprentice training, coupled up with training in Germany run throughout the whole group – which has an enormous ripple effect on Malta's economy," said Mr Balzan.
"We have been seeing strong sales and profit figures throughout all the years, but the first six months of this year have been busier due to our strong network approach and marketing, resulting in also utilising other yards in Malta to help execute repairs and refits – with the largest yacht in dock being 95 metres and the largest services yacht in water being 135 metres."
Melita Marine already employs over 100 people including apprentices and a specialised yacht painting team; together with other specialist-approved sub-contractors this amounts to over 140 people. The Group is recruiting additional personnel to meet the surplus in demand and provides training of personnel in specialist fields both in Malta and Europe, as well as additional apprentice training in all departments.
The yachting industry is known to be an important niche in the economy as the services it requires generates multi-million projects involving manpower of different skills and expertise at all levels which include high net-worth individuals on board.
When sizeable yachts, like the ones that require Melita Marine Group's wide range of services, come to Malta, their average stay is at least a month to possibly six months, depending on the services they require. The average crew complement on board on such yachts varies between 20 to 60. Apart from the money generated from the shipyard works, services and supplies provided, crews on such yachts are known to be good spenders and during their stay they use many facilities generating business across various sectors on the Island.