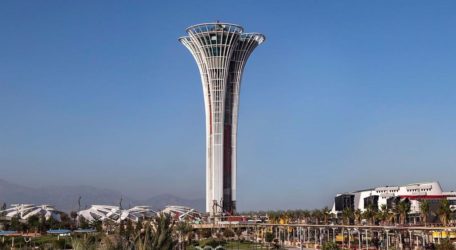 Pictured above: The 114-metre-tall World Botanic Expo in Antalya, Turkey, that was built in less than 11 months

Construction firm corrects misleading reports
TACA Construction, the international building services company, clarifies that its staff enjoy decent living and working conditions and that it is fully compliant with Malta's laws and regulations.
The company felt the need to issue a public statement to rectify the numerous inaccuracies reported in the media.
"We have a long-standing international reputation in the construction sector and are law-abiding citizens in each and every country where we are present. We are guests in Malta and we are following all the rules and will be paying tax as a Maltese entity," company spokesman Deha Türkel​ said.
The company was one of a number of international construction firms that bid for a tender on the redevelopment of the Fortina Hotel in Sliema and the DB Group's City Centre project on the former ITS site in St Julian's.
The company, which has eight offices around the world and specialises in the construction of super structures, has so far brought over 78 of its skilled workers to Malta. They earn an average salary of €1,450 and are provided with private healthcare insurance, flight tickets, free accommodation and three meals a day.
"Our employees, who have been with us for years, will be coming and going according to the needs of the projects we have been contracted to undertake. Their visa prevents them from bringing over their families and they have no intention of staying in Malta.
"Our workers would not be with us if we did not provide them with good conditions. We take care of them in every possible situation and they get paid more than they would at home because they are away from their families
"All our workers' paperwork is in order and above board. They are skilled individuals with international expertise," Mr Türkel said.
TACA Construction has also dropped its plans to set up a temporary village – even though its workers prefer to live together as a community as they have done in other countries – and will instead be housing its employees in apartments.
Mr Türkel said TACA Construction had sub-contracted Maltese contractors for equipment and machinery and is purchasing most of the construction supplies locally, thereby creating new economic opportunities for local industry.
"We bring a lot of expertise to the market through our extensive experience of large projects in other countries and we honestly cannot understand why we are being singled out for such attacks when we have done nothing wrong."