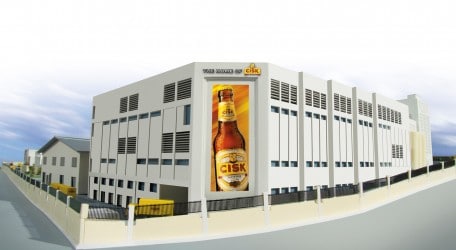 Simonds Farsons Cisk plc registered another year of solid and profitable growth. Whilst Group turnover for the financial year ended 31st January 2016 reached €85 million, representing a robust growth of 7.2% over the previous financial year's record results, the profit before tax from continuing operations increased by 22.8% to €10.1 million.
The strong performance for the year was positively influenced by a vibrant economic environment spurred on by record tourist arrivals and increased consumer demand for Farsons products. The Group also attained significant improvements through the ongoing implementation of its twin strategy of innovation and exports. The increased market success is also due to the significant investments that the Board has made in recent years in, among others, human resources, operational assets and marketing strategies.
Farsons is currently commissioning a new €27 million beer packaging investment. Furthermore, the company has just embarked on an extension to its Logistics Centre and administration block to be completed by mid-2017.
Group Chairman Mr Louis A Farrugia said: "Farsons Group owns substantial property assets which are not an integral part of the beverage operation while having the potential to provide a better return to shareholders if such assets were to be governed by a focused board of directors and managed by a dedicated management team with the right skills and time to manage the property business. As part of our plans for the intended spin-off of non-operational property assets into a newly listed public limited company still to be approved by general meeting, much work is underway in preparation of this important and complex decision. The proposed idea of rehabilitating and converting the old brewery building into an office business park with an accompanying car park, a visitors' centre, exhibiting the Farsons Story, as well as food and beverage outlets, is a feasible investment which can benefit and enhance shareholder value.
Farsons Group Chief Executive Mr Norman Aquilina commented, "The Farsons Group has, once again, delivered a very encouraging performance, with improved year-on-year results. The fact that we were able to maintain such a consistent momentum over the past years, despite fierce and ever-present competition, certainly gives credibility to our strategies. It also demonstrates our Group's resilience and our ability to respond effectively to evolving, and increasingly complex, market dynamics.
"While maintaining our commitment towards quality, our Group has undertaken strategically important investments which will now enable us to sustain our growth in the long term. Undaunted by the scale of challenges ahead, we are also embarking on a number of important initiatives to ensure that we continue to deliver locally and internationally, as we continue to innovate and develop our brands," said Mr Aquilina.
Shareholders' funds increased by €9 million to exceed €109 million. EBITDA (earnings before interest, tax, depreciation and amortisation) for the year amounted to €18.7 million compared to €17.2 million last year.
The Board of Directors is recommending an increased final dividend of a total declared dividend for the year of €3.2 million. This figure is €0.2 million higher than the amount declared last year.